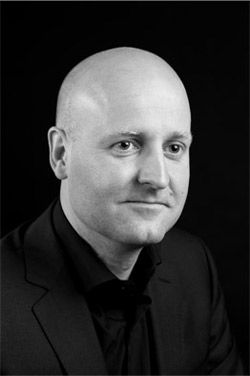 Steven van Gils began his voice studies at the Conservatory of Rotterdam during the latter stages of his Masters studies in Economics at the University of Amsterdam. After being taught by Frans Huijts for the first few years, he graduated under the tutelage of Roberta Alexander.
He has taken further lessons and master classes with Carolyn Watkinson, Jard van Nes, Maarten Koningsberger, Nico van der Meel, Sheila Barnes, Roger Braun, Kelvin Grout, Meinard Kraak, Roger Vignoles, Malcolm Martineau and Adrian Thompson.
In the field of oratorio he has performed the solo parts in, amongst others, Mozart's Requiem, in Händel's Messiah, in Franck's Sieben Worte, in Gounods Messe Solennelle, in Stainer's Crucifixion, in Stravinsky's Les Noces, in Puccini's Messa di Gloria, in Haydn's Stabat Mater and both in Rossini's Stabat Mater and in his Petite Messe Solennelle. He has been a soloist in many of Bach's Cantata's, as well as having sung the Evangelist in the Matthäus Passion (St. Matthew Passion), in the Johannes Passion (St. John Passion), in the reconstruction of the Markus Passion (Bach/Koopman) and in the Dutch reinterpreted translation of the Matthäus Passion. He has also sung the aria's in the Matthäus Passion, in the 1725 Johannes Passion, in the Weihnachts Oratorium (Christmas Oratorio) and in the Hohe Messe (High Mass).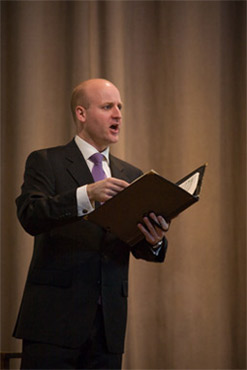 During concert performances he has sung the title role in Mozart's Idomeneo, Orfée in Gluck's Orfée et Eurydice (Parisian version) and Charlie in Weill's Mahagonny Songspiel.
He can also be heard as Monostatos in the Dutch language recording of Die Zauberflöte (de Toverfluit) that is used by the Amsterdam Marionette Theatre in its puppeteering performances.
Both Dutch language opera and contemporary music form an important part of his repertoire. He has sung the main tenor part of Armand in Constant van de Walls rediscovered late-romantic Attima and he created the role of Willem II in Ruud van Eeten's opera of the same name. For Music Theatre Hollands Diep he played Wuddink in Hans Koolmees's new Waterman and recently Theo in Vanessa Lann's De Stilte van Saar (The Silence of Saar).
With this company he also played the part of Mackie Messer in Die Dreigroschenoper (Threepenny opera) by Kurt Weill and Bertolt Brecht and the role of First Sailor in Dido and Aeneas by Purcell. He has also performed in several projects instigated by youth opera producer YO!, such as the large scale Opera uit het Hart (Opera from the Heart), as well as the Dutch opera short Busvlinder by composer Bob Zimmerman.
He was a also part of the successful production De Noces / Svadebka / de Bruiloft (The Wedding) by Music Theatre Collective Walpurgis, which succesfully ran at the Oerol Festival, as well as other festivals in Belgium and France.
At Oerol he has performed multiple times, last year with the Resident Artists Program of the National Reisopera as Toby in Offenbachs Robinson Crusoé, and in 2006 as part of Roeland by Buffo Operamakers.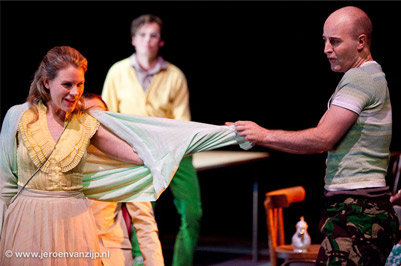 In the field of contemporary music theatre he is a regular member of VocaalLAB. For them he has amongst others performed the part of Dr. S. in Nyman's The Man who mistook his Wife for a Hat, the role of Sparrow in Richard Ayres' The Cricket Recovers, directed by Pierre Audi during the Holland Festival, and the tenor solo in Jan Kuijken's internationally acclaimed De Gehangenen (The Hanged), produced by LOD Ghent and directed by Josse de Pauw.
This autumn will see the world premiere of Yannis Kyriakides' Naked Lunch, a co-production with Slagwerk Den Haag and dance company Club Guy and Roni, based on the infamous novel by William S. Burroughs.
In the genre of art song and Lieder he frequently partners with pianist Rixt van der Kooij. Together they have performed amongst others Schuberts Winterreise, early songcycles by Hugo Wolf, cycles by Robert Schumann, Lieder by Johannes Brahms and Britten's On this Island as well as his Holy Sonnets of John Donne.
In the field of ensemble singing he regularly sings with both the Netherlands Chamber Choir and Cappella Amsterdam.